Discover the Hidden Gems: 3 Reasons Why Izard County, Arkansas Land is the Next Big Thing for Investors
Izard Arkansas: Looking for an investment opportunity that combines natural beauty, recreational activities, and high potential ROI? Look no further than Izard County, Arkansas!
The Rustic Mountains
Located in the heart of the Ozark Mountains, Izard County offers some of the most stunning natural scenery in the state. With rolling hills, pristine lakes and rivers, and abundant wildlife, Izard County is a nature lover's paradise.
The Recreation
But that's not all Izard County has to offer. The area is also a hub for outdoor recreational activities, including hunting, fishing, hiking, and camping. Its prime location between Little Rock and Springfield, Missouri, also makes it a popular destination for weekend getaways and family vacations.
The Return
But what really sets Izard County apart is its potential for high ROI. With an abundance of land available for sale at affordable prices, you can take advantage of the growing demand for vacation homes and rental properties in the area. And with a thriving tourism industry, you can be sure that your investment will only continue to grow over time.
So whether you're looking for a peaceful retreat or a smart investment opportunity, Izard County, Arkansas land is the perfect choice. Contact us today to learn more about available properties and how we can help you make the most of your investment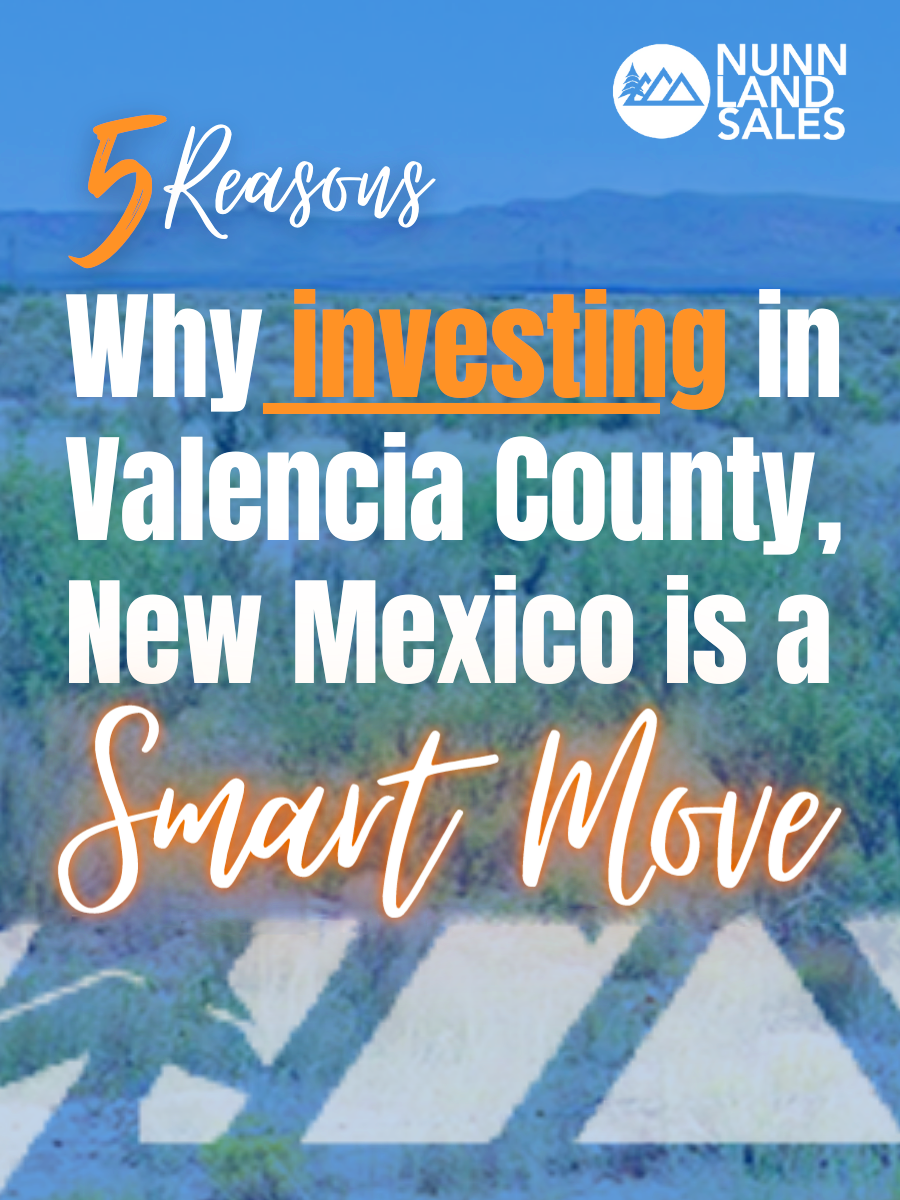 5 Reasons Why Investing in Land in Valencia County, New Mexico is a Smart Move
We have completed hundreds of transactions in Valencia County. If you are new to investing, this is the place to start!
Valencia County, New Mexico is a hidden gem in the Southwest United States that offers a wide range of investment opportunities for those looking to buy land. Here are a few reasons why buying land in Valencia County, New Mexico is a smart investment:
Reason 1: Affordable Prices
Compared to other areas in the Southwest, land prices in Valencia County are relatively low, making it an attractive destination for those looking to buy land without breaking the bank.
Reason 2: Great location
Valencia County is situated in the heart of New Mexico, just south of Albuquerque, which makes it easily accessible from major highways and transportation hubs. This location also means that the area is growing rapidly, making it an ideal spot for those looking to invest in land for future development.
Reason 3: Natural beauty
Valencia County is home to some of the most stunning natural landscapes in the Southwest, including the Manzano Mountains and the Rio Grande River. This scenic beauty not only makes the area an attractive destination for tourists, but it also adds value to any land that you invest in.
Reason 4: Diverse Investment Opportunities
Valencia County is home to a wide range of investment opportunities, from agricultural land to residential and commercial properties. This diversity means that you can find the perfect piece of land to suit your investment needs.
Reason 5: Low Property Taxes
New Mexico is known for its relatively low property taxes, which makes investing in land in Valencia County even more attractive.
Overall, Valencia County, New Mexico is a great place to invest in land, with affordable prices, a great location, natural beauty, diverse investment opportunities, and low property taxes.
Contact us to learn more about available properties in Valencia County and start exploring your investment options today!